Introduction
The national definition of bullying for Australian schools defines bullying as an ongoing misuse of power in relationships through repeated verbal, physical and/or social behaviour that causes physical and/or psychological harm (Dept. of Education, 2015).  Three main types of bullying are commonly identified: overt bullying, which includes visible physical or verbal bullying, or exclusion; covert bullying, which is not as easily identified and includes the spreading of rumours; and cyber bullying, a newer form of bullying that is facilitated by increased use of social media.
The term bullying is sometimes confused with harassment and discrimination, but while there is some overlap, the difference is that bullying happens within social relationships, featuring repeated and harmful behaviours that stem from a misuse of power.  Research finds a complex relationship between perpetrators and victims of these behaviours, with a portion of students acting as 'bully-victims' who are both victim to and perpetrators of bullying at different stages.
Bullying has been found to adversely impact both bullies and victims.  Bullies, for example, are at higher risk of substance abuse, depression, anxiety and hostility than non-bullies.  For bullying victims, being targeted can result in increased suicide risk, depression, poor school performance and physical health, and low self-esteem.  Further, the impact of bullying in childhood may last for many years (Alannah & Madeline Foundation, 2018), with direct and diverse effects of bullying evident long after schooling is complete.  Children who are both victims and perpetrators of bullying often suffer the worst effects (Copeland et al. 2013).
In March 2018 Relationships Australia explored aspects of bullying in schools via the monthly online survey by asking visitors to our website a series of questions about their opinions and awareness of bullying, along with avenues they might source if they needed help.
Previous research finds that
The annual economic impact of bullying in Australia totals an estimated $2.3 billion, incurred while children are in school and for 20 years after school completion
Almost 25 % of school students in Australia, or an estimated 910,000 children, experience bullying at some stage during their time in school
It has been estimated that there are around 45 million bullying incidents across all schools each year, instigated by around 543,000 perpetrators
There are an estimated 218,000 victims
Results
More than 1,200 people responded to the Relationships Australia online survey in March 2018.  Around three-quarters of survey respondents (76%) identified as female, with more females than males responding in every age group (figure 1).  Four-fifths (79%) of survey respondents were aged between 20‑59 years, and more than 50% of respondents comprised women aged between 30‑49 years (inclusive).
As for previous surveys, the demographic profile of survey respondents remains consistent with our experience of the groups of people that would be accessing the Relationships Australia website.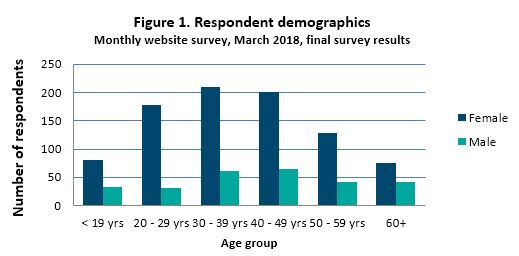 Almost all survey respondents thought that bullying was a problem in schools (see figure 2).  More than 65% of female survey respondents and 53% of male survey respondents reported that bullying in schools was a big problem.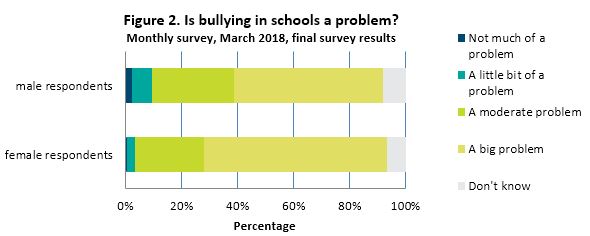 Survey respondents were asked which types of bullying they considered caused the most harm to children. Options include physical bullying (pushing, tripping, hitting or damaging or stealing property); verbal (name-calling, hurtful teasing, insults or humiliating or threatening someone); social (excluding someone from a group or an activity, gossiping or spreading rumours about someone); or electronic (using the internet or a mobile phone or device to send e-mails, text messages or pictures to threaten someone or hurt their feelings).  More than three-quarters of female survey respondents and 60% of male respondents reported all types of bullying caused harm to children.  The next most commonly reported type of bullying causing harm was social bullying (figure 3).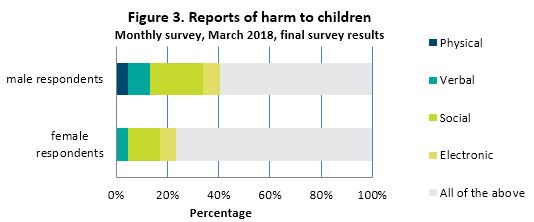 Figure 4 shows that schools are commonly where people seek help for bullying, with almost 50% of men and women reporting that they would seek help from the school if they were worried that a child was being bullied.  Almost 50% of women and one-third of men would seek help from a variety of sources, including schools, if they were worried that a child was being bullied.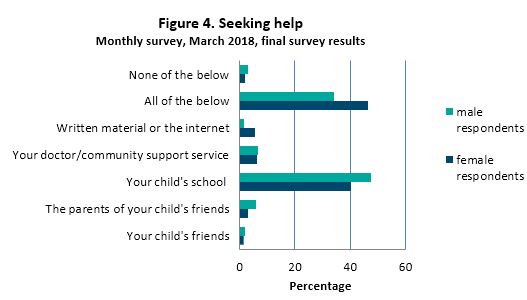 There were no significant differences in the reports of male and female survey respondents when they were asked about their confidence in a school's ability to deal with bullying (figure 5).  More than 50% of survey respondents were not confident and a further 25% were neither confident or unconfident that schools deal effectively with bullying.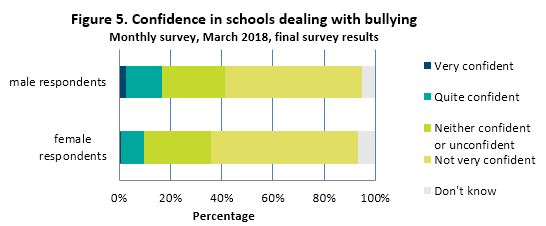 The majority of survey respondents (52%) indicated a preference for a range of actions to improve the handling of bullying (figure 6).  The second most commonly preferred action for improving the handling of bullying was to engage experts to teach children about bullying and respectful behaviour (23%) followed by inviting parents to participate in bullying programs (11%).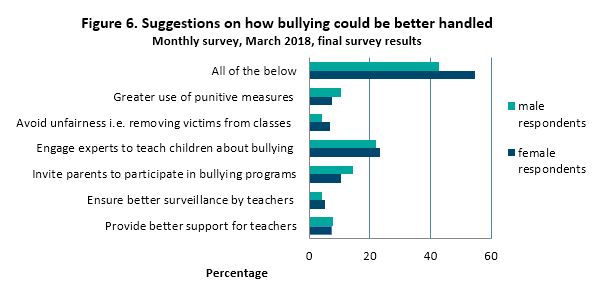 References
Alannah and Madeline Foundation. (2018). The economic cost of bullying in Australian schools. Price Waterhouse Cooper, available at https://www.ncab.org.au/media/2505/amf-report-280218-final.pdf
Copeland, W E, Wolke, D; Angold, A & Costello, J. (2013). Adult Psychiatric Outcomes of Bullying and Being Bullied by Peers in Childhood and Adolescence. JAMA Psychiatry. 2013;70(4):419-426. doi:10.1001/jamapsychiatry.2013.504
Department of Education and Training. (2015). A review of literature (2010-2014) on student bullying by Australia's Safe and Supportive School Communities Working Group. ISBN: 978-0-99419307-0