Introduction
Many people are hesitant to talk about death and dying, yet around 85 per cent of people will die after chronic illness, not a sudden event, and this means that most people will benefit from considering the type of care they would want during that illness, particularly near the end of their lives.
In an inquiry into palliative care in 2012, the Australian Government reported that failure to talk about and plan for death is one of the most significant obstacles to improving the quality of dying.  If a person has not communicated their care preferences, end-of-life decisions will often need to be made by close family and friends who may not honour the dying person's wishes or argue over care and end of life decisions.  This is supported by previous research conducted by Relationships Australia, where a significant minority of male and female survey respondents indicated they were worried their family would fight over end of life decisions, including their aged care.
After a person's death, the division of their estate can also cause conflict and stress for family and friends, especially if the person has not prepared a will.  According to the NSW government, only around 55% of Australians have a valid will, with the remaining 45% having no will or a will that is not up to date.  The intricate and multi-layered structure of many modern families can also mean that surviving family members need to navigate through complex family dynamics to make decisions about the deceased person's estate.  The breakdown of family relationships and re-partnering can also increase the risk of inheritance disputes and arguments after parents and/or step-parents have died.
In May 2016, Relationships Australia asked visitors to our website to participate in a two‑minute survey that asked them how comfortable they felt discussing death and dying, whether they had planned for the end of their life and whether they had discussed their wishes with their family and friends.
Previous research finds that…
While most people want their wishes respected even if they can no longer express them, it is estimated that only 14 % of Australians have an advanced care or health directive in place.
Around 50% of Australians will not be able to make or express their own decisions when they are near death.
Around 70% of Australians indicate a preference for dying at home, yet only about 14 per cent do so.
In a Relationships Australia survey, around 16 % of men and 18% of women reported they were worried that their family would fight over their inheritance.
Results
More than 1,900 people responded to Relationships Australia's online survey in May, 2016.
Just under 80 per cent (77%) of survey respondents identified as female, with women outnumbering men in every age group (see figure below).  Just over four-fifths (82%) of survey respondents were aged between 20-59 years, with the peak response category capturing the views of women aged from 30 to 39 years.
The demographic profile of survey respondents remains consistent with our expectations of the groups of people that would be accessing the Relationships Australia website.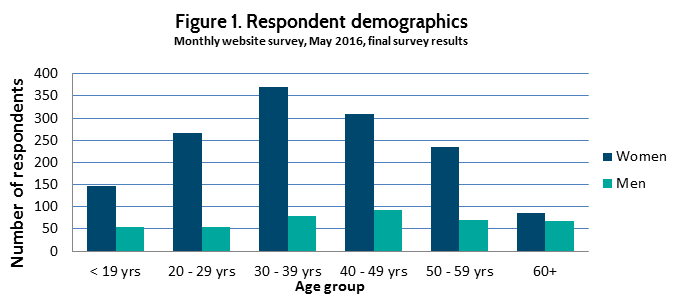 There were small but significant differences in the self-reported comfort levels of men and women when talking about death, dying and loss.  Women (42%) were more likely than men (37%) to report that they were comfortable rather than uncomfortable with talking about death, dying and loss.  Men (30%) were more likely than women (23%) to report they had no strong feelings with respect to talking about death, dying and loss (see figure 2).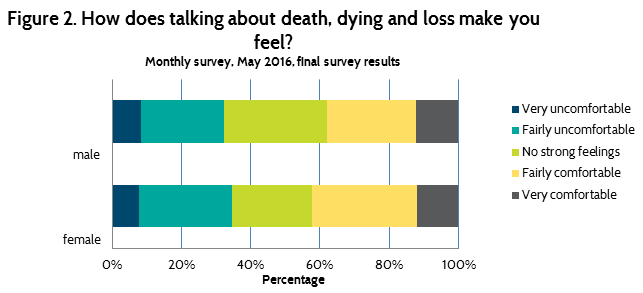 Just over 35 per cent of women and 49 per cent of men reported that they had a written will, lower than the rates reported by other authors, including government bodies.
Around three-quarters of men and women who reported having a written will had discussed their will with their family.  women (74%) were slightly more likely to report that they had discussed their will with their family than men (72%).
Both men and women reported a strong preference for being cared for at home if they were dying, and at the end of their life, with women (60%) more likely to report they would like to be cared for at home than men (53%).  Men (24%) were more likely than women (18%) to report no preference for their end of life care (see figure 3).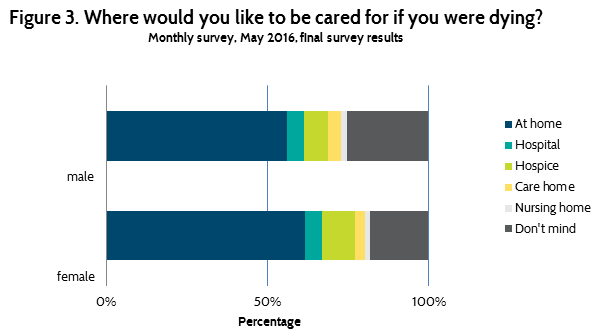 When compared to making a Will, only a small minority of female (5%) and male (8%) survey respondents had written an advanced care directive or an end of life plan.  More than one-fifth (21%) of women and one‑quarter (28%) of men reported that they did not know about advanced care directives or end of life plans.  However, a larger minority of female (40%) and male (35%) survey respondents had spoken to their family and friends about the care they would want at the end of their life.
References
Australian Senate, (2012), Senate Community Affairs Reference Committee, Palliative Care in Australia, Canberra
Grattan Institute, (2014), Dying Well, Report No. 2014-10, September 2014 viewed at grattan.edu.au/wp-content/uploads/2014/09/815-dying-well.pdf
King, C., Wainer, J., Lowndes, G., Darzins, P. and Owada, K. (2011), For love or money (intergenerational management of older Victorians' asset: Protecting Elders Assets), Melbourne : Eastern Health Clinical School, Monash University.
NSW Trustee & Guardian, Attorney General & Justice, What is a Will?, viewed at  www.tag.nsw.gov.au/what-is-a-will.html